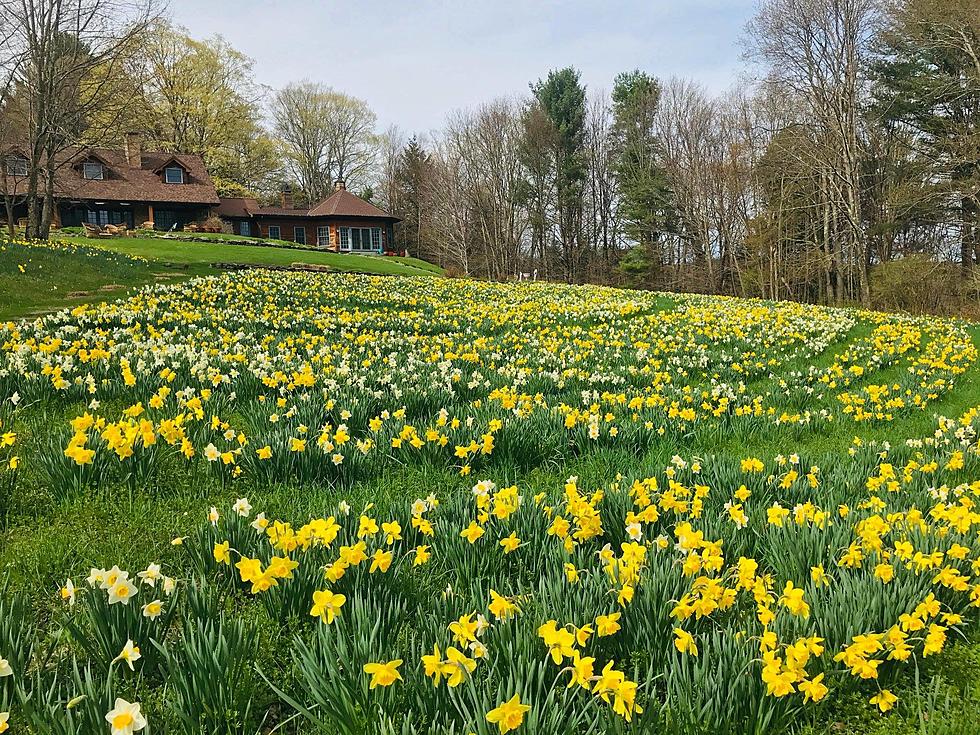 Benefit Helios Care Brunch Features Spectacular View With Thousands of Daffodils
Credit: Helios Care, facebook
We've all seen daffodils in the spring, but trust me, you haven't seen daffodils until you've seen the daffodils at the beautiful country estate home of Tom Morgan and Erna McReynolds just outside of Franklin, NY which is the gorgeous setting for the Helios Care Daffodil Jazz Brunch on April 30, 2022.
For this unique fundraising event, guests are seated outdoors with a view of thousands of blooming daffodils and stunning countryside that will take your breath away. I can attest to this after attending last year's brunch with my husband and just soaking in the sun and an incredible view of the field of thousands of daffodils the whole time. It's truly a special event and unlike any other in our region. In addition to the stunning view, you get to enjoy jazz music by the Rob Hunt Trio, a popular local trio who has been performing for many years in our region. The delicious brunch will be prepared by Dee Smith Hazlett.
This event is COVID-19 guideline compliant to ensure the safety of all attending. To make sure guests are socially distanced, Helios Care asks that those wishing to attend, please pick one of the following brunch times (reserve by April 22):
11:00 a.m. to 2:00 p.m.
12:00 p.m. to 3:00 p.m.
If you have any questions you can reach Alicia Fish at Helios Care at 607-432-6773 or by email at events@helioscare.org.
Proceeds from the Daffodil Jazz Brunch benefit Helios Care, a non-profit organization based in Oneonta which serves three counties by way of supporting and providing services to those suffering from a serious illness. Helios Care provides everything from pain management to grief support to offering services for veterans. You can find out all about Helios Care services by visiting helioscare.org.
More details on the Daffodil Jazz Brunch are available by viewing the invitation. If you've never been to the Helios Care Daffodil Brunch, you can rest assured it will be a wonderful experience you remember for years to come.
Look: 10 Sophisticated Dining Hot Spots In Otsego County
Otsego County has its fair share of eateries but most of them are very casual in terms of the decor. If you're looking for something "next level" - a finer dining experience, check out these more sophisticated restaurants in Otsego County that also feature delicious and varied cuisine.
Treasure Hunt At 12 Consignment and Thrift shops in Otsego County
Thrift and consignment shops have become very popular over the years and continue to gain in popularity since you can find some amazing clothing items or treasures that you just have to have. "Sky's the limit" on what you can find at any one of these awesome shops in Otsego County. Happy treasure hunting!
Sip and Discover Otsego County Along The 37-Mile Cooperstown Beverage Trail
If you are looking for something fun and different to do with either friends or your partner for an afternoon, the Cooperstown Beverage Trail offers a lot of variety along this 37-mile trail.