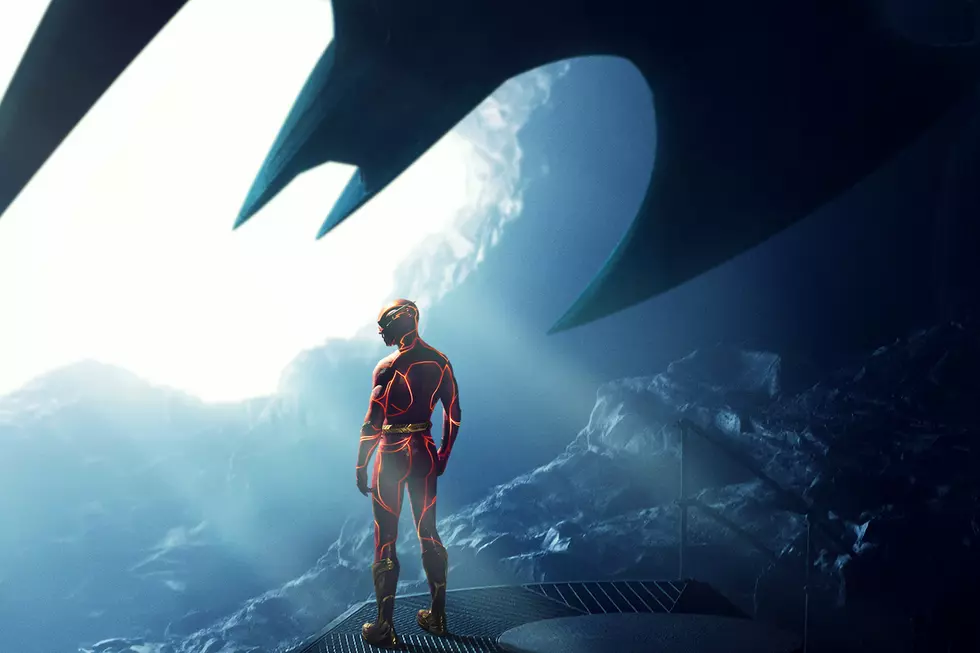 New 'Flash' Poster Teases a Major DC Crossover
Warner Bros.
We haven't heard much about The Flash in the last few months. Well, we've heard plenty about the person playing the Flash — star Ezra Miller — but not so much in the context of the film, which is the first solo movie outing for DC Comics' speedy superhero.
Instead it's been in the context of Miller's tumultuous personal life. They recently pled guilty to a misdemeanor charge of unlawful trespass in a case stemming from an incident in May of 2022. Miller was alleged to have broken into a home in Stamford, Vermont, where several alcohol bottles were found to be missing. (Miller had previously pled not guilty to the charges including felony burglary back in October of 2022.) Miller has supposedly been in treatment for "mental health issues" since last summer.
The more controversy that Miller generated, the more everyone wondered: What does this mean for The Flash? Well, it seems like so far it means nothing, as the film is still on track to open in theaters this summer. And finally, there's a new piece of promotional material for the film — a new poster, which shows Miller's Flash standing beneath the classic Michael Keaton Batman Batwing. Take a look:
The Flash is one of the final DC films from Warner Bros. made prior to the arrival of James Gunn and Peter Safran as the co-CEOs of DC Studios. They're in the process of starting an entirely new movie and TV universe, including new versions of Superman, Batman, and Robin. Where that leaves The Flash is unclear at this point. Reports have claimed that everyone from Henry Cavill to Gal Gadot to Jason Momoa have shot scenes or cameos for The Flash. It's still uncertain if they will actually make the finished product — or if the movie could potentially continue with sequels set in this new DCU.
Here is the film's official synopsis:
Ezra Miller stars as Barry Allen, AKA The Flash, who pushes the limits of his superpowers in the DC Super Hero's first-ever standalone feature film.
The Flash is scheduled to open in theaters on June 16, 2023. But it has been delayed before — multiple times. We'll see if it happens again.
The New DC Universe of Movies and Shows
All the projects announced by DC Studios as the start of "Chapter 1" of the company's new universe of movies and shows.