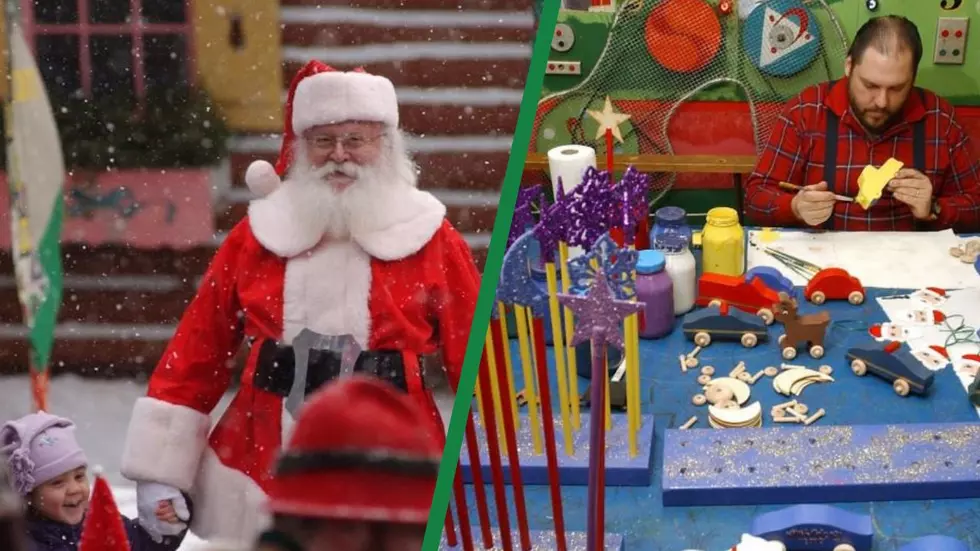 Santa's Upstate New York Workshop Will Blow Your Kid's Minds
Santa's Workshop, North Pole, NY via Facebook
"The children were nestled all snug in their beds, While visions of sugar-plums danced in their heads."
Sorry, Clement Clarke Moore. The children likely were not snuggled in bed. The better bet is that they were peeking through the staircase rails while holding back giggles as they did their very best to catch a glimpse of old St. Nick.
Any parent will tell you that even the bribe of gifts in the morning or the threat that Santa won't visit if little ones don't go to sleep isn't always enough to lull children to sleep on Christmas Eve because the excitement is far too much.
A visit to Santa's North Pole Workshop might curb your child's appetite to stay up late to see Santa and it will most definitely help your family create special memories that will be cherished for a lifetime.
Santa's North Pole Workshop is only a few hours away in North Pole, New York, which sits in New York State's Adirondack Park not very far from Lake Placid.
Since 1929, Santa's North Pole Workshop has been entertaining families on weekends where kids can create their own ornaments to decorate the Christmas tree, get a glimpse into Santa's workshop, take in caroling, storytelling, a train ride, and magic show, and so much more including some special time with Santa himself.
There are still a few weekends left to explore Santa's North Pole Workshop, so, if you've been thinking about sneaking in a special Christmas-themed family mini-getaway, you'll want to act fast.
Visit Northpoleny.com to learn how you can make this holiday season extremely magical for your kids.
10 Upstate Ice Skating Rinks to Take Your Family To
Winter in Upstate New York means winter sports. Ice skating has been around for as long as Upstate has been around. Today we find rinks at resorts, in civic centers, in city parks and in open fields. Here is a list of 10 great places to take your families to this winter for a bit of fun on the ice! And as a bonus some of these rinks are in the most beautiful of places, like at the top of the mountain behind Mohonk Mountain House resort in New Paltz, or spread out along the frozen canals near downtown Buffalo. All are great. Have fun!
11 of the Best Ski Slopes and Resorts in Upstate New York
Upstate New York has some of the best ski resorts in the East. From the Catskills to the Adirondacks and into Central New York, these 11 slopes are busy places come Old Man Winter's snowy entrance!
15 Upstate NY Bakeries to Buy the Yummiest Christmas Cookies
Christmas cookies. Just saying those words brings back memories of mom or grandma baking up a storm in the kitchen during the holiday seasons of your youth. Well, these are probably not the Christmas cookies that dear old Mom made, but they are all wonderful, delicious, creative. and bring the spirit of the season to your home or party in a nostalgic way. Check out these gorgeous photos!