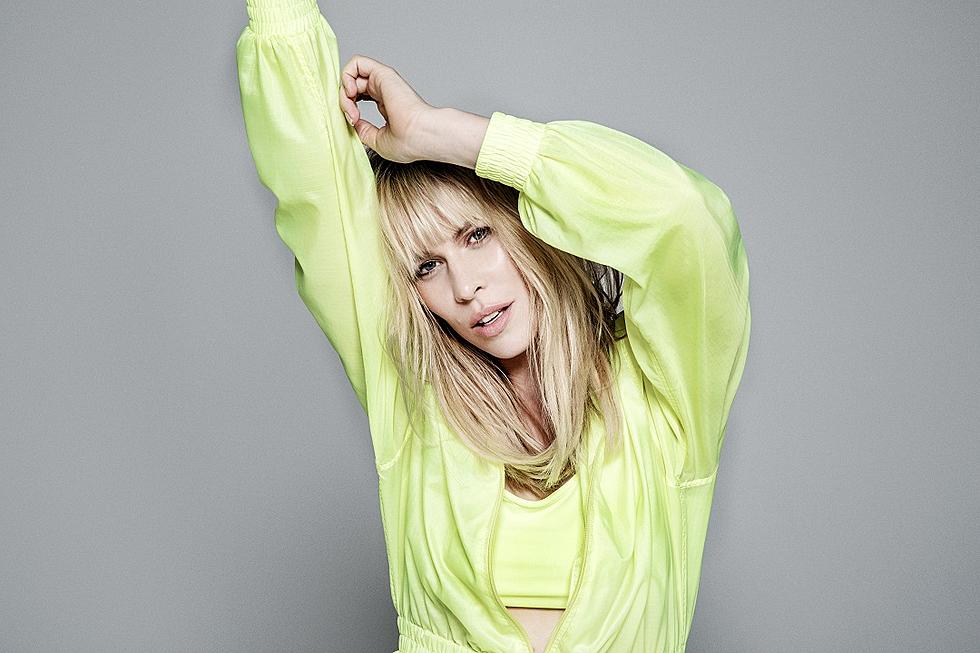 Natasha Bedingfield Talks Sexism in Music Industry: 'There's Still So Many Men Running Everything'
Courtesy of Kenneth Cappello
There was a time when Natasha Bedingfield would get asked why she wasn't pole dancing in her music videos or sporting skimpier outfits on stage. Refusing to conform to what some viewed as the norm for women in music, she instead carved out a successful music career marching to her own beat, becoming a symbol of female empowerment in the process.
Now, having just released her first studio album in nine years, Roll With Me, the 37-year-old U.K.-born, New Zealand-raised singer believes women in music have come a long way regarding sexism and beauty standards. However, she admits to still feeling the weight of so many suits at the top of the music industry.
"I definitely feel like I've been vocal and a symbol of women's empowerment through my songs like 'Single,'" the "Roller Skate" singer shares. "When I first started singing, people were asking, 'Why aren't you pole dancing? Where are your backing dancers?' There was this whole idea of what a women singer needs to be and how she needs to present herself and it was interesting how just by dressing a certain way, that could be destructive.
"I think we've come a long way now because modern feminism is about owning your sexuality," she continues. "It's not just saying, 'I don't have to be sexy,' but being able to say, 'If I want to be sexy, I can be.' I really love that. But industry-wise, it's funny because you can sing a certain message but it's still so many men who are running everything, so you still end up coating things somewhat. All the things you say, you have to make them so that the male ego can handle it! And, all the people who get production credit are men. There's still a lot of stuff like that."
When it comes to her own body, Bedingfield admits that behind her songs, she remains on a journey of acceptance and empowerment—which also means finally loving the curves she once hated.
"I certainly am on that journey of just loving my body and feeling powerful in it," the musician, who welcomed a son, Solomon, with her husband Matt Robinson in 2017, says. "I think a lot has changed because people are so much more self-empowered since there aren't any gatekeepers now – you can speak your truth on social media. What's popular body-wise is so different, too. I've got a huge booty, but that wasn't always the in-fashion thing. I used to hate it! I've never had to give myself a fake booty because I've got one, but it wasn't something I was proud of!"
In fact, there was a time where Bedingfield's "booty" size saw her snubbed by designers when it came to dressing her for events or projects. She credits celebrities like Kim Kardashian and Ashley Graham, who have publicly embraced their curves, for helping change attitudes about what's sexy, and is grateful that many designers, like Christian Serrano, now welcome women of all sizes.
"A lot of designers wouldn't dress women who are shapely like me before," she says. "They would send you clothes but they wouldn't fit, or they would just sniff their nose up because if you weren't heroine-thin. They just wouldn't think it's beautiful."
It's something Bedingfield's past collaborator, Bebe Rexha, experienced earlier in 2019 when she couldn't find a designer willing to dress her for the Grammy Awards, due to being "too big." She was eventually outfitted by Moonsori for the glitzy awards ceremony, where she was nominated for Best New Artist and Best Collaboration for "Meant to Be" with Florida Georgia Line.
More recently, 30-year-old Rexha took to Instagram to share her experience with ageism after being told by a male music executive that she was dressing too provocative for her age. It's another experience Bedingfield can relate to; she quickly commented on the post, calling it "such bulls---."
"I've worked with Bebe in the studio and wrote a song with her and there was just something about her when she was singing – I felt like she was channeling an old soul and drawing on some ancient wisdom and it was beautiful," Bedingfield recalls. "I had a similar experience working with Wyclef Jean. They just suddenly get me in the zone and you can feel their energy, almost like they're a conduit.
"I was like, 'Yeah, she's got something special,' and then she released all this stuff and has been huge," Bedingfield continues. "She's still relatively fresh on the scene, so for her to have people say stuff like that to her – that feels so familiar. But I feel like we're going to see much bigger things from her. She's doing pop, but her well is super deep and we're going to see more and more of her depth. So, if someone's discouraging her just for her age, that's so rubbish because she's only going to get better."
Meanwhile, Bedingfield is thrilled to finally have her album out, with the project marking another significant step for women in music: Bedingfield left her old label to join We Are Hear, an empowerment-focused label, management and production house formed by Kerry Brown and former 4 Non Blondes frontwoman Linda Perry. Perry also helped Bedingfield give her catchy 2004 hit and The Hills theme song, "Unwritten" (which earned her a Grammy nomination for Best Female Pop Vocal Performance in 2006) a dance-influenced makeover for the reality series' recent reboot.
"Linda kind of saw me in that mode where I was working with a lot of businessmen and [struggling,]" Bedingfield says of working with Perry on Roll With Me, which was hugely influenced by both the social and political climate, as well as first-time motherhood. "I'm this real creative and she was just really encouraging at the time. Then she put together a label and I was the first artist who she called up and was like, 'Hey, I'd love to do your record.' It was amazing to work with her."
With the record finally out, Bedingfield is now excitedly preparing to hit the road again on her Roll With Me tour, which kicks off October 12 in Biloxi, Mississippi and concludes November 3 in San Francisco, California. (You can find tickets and more information about the tour here.) Although she covers some deep issues on her record, her main goal was to make music which would create a great live show and get people on their feet.
"One thing we did that was really fun was we got a whole bunch of people in the room and tried out songs ... before they were finished, then went back into the studio," she says. "We sang things in a different key or added a drum beat, and the main thing I was thinking was, 'I want people to feel like they want to move to this. I want to feel a sense of movement.'"
"I love singing live," Bedingfield adds. "It's really my favorite part and it's been a long time since I toured, so really the whole album is about the tour!"
Best Albums of 2019