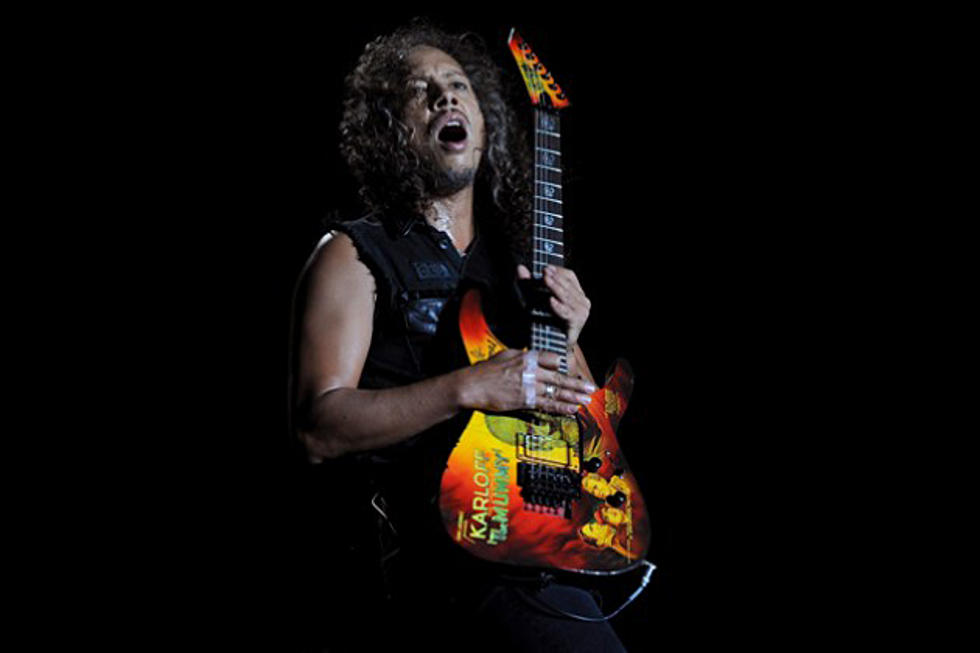 Metallica's Kirk Hammett Admits Losing Phone Containing 250 Musical Ideas
Kevin Winter, Getty Images
Remember a few years back when Kirk Hammett stated that he had close to 400 riffs to sift through for Metallica's next album? But unfortunately he no longer has access to a whole bunch of them. Hammett revealed in an interview with The Jasta Show podcast that he actually lost an iPhone containing 250 riffs.
He told Jamey Jasta (as transcribed by Blabbermouth), "I put riffs on my iPhone, but something very unfortunate happened to me about six months ago. I lost my iPhone [containing] 250 musical ideas. And I was crushed. It didn't get backed up. And when it happened, I was bummed out for about two or three days. I walked into the house. My wife saw me and she said, 'Uh-oh, what's wrong? Did you get a phone call from a relative?' I said, 'No.' She said, 'What's going on?' I told her, and she understood.
"I lost [the phone]. I just plain lost it. I can't find it. I'm still looking for it to this day."
The guitarist says he's hoping that the phone will still turn up, adding, "I can only remember, like, eight of [the ideas]. So I just chalked it down to maybe it just wasn't meant to be and I'll just move forward with it." Learning his lesson, he says he now makes sure his phone is backed up.
Hammett also dropped a few other nuggets during the interview, suggesting that while they haven't named a producer, producing vet Greg Fidelman is involved. "We love working with him," says Hammett. "And for me, his whole attitude toward working is so right on, man. I can't wait to get into the studio and work with him. He's not a ballbuster, but he is a slave driver."
He also revealed that while songs are still taking shape, the stuff the band is coming up with is "super riffy, super heavy." He added, "I would say, you know, it's a lot similar to Death Magnetic but different in certain parts … and you know, there's a couple of songs that remind me of something on And Justice for All, but the album doesn't sound like And Justice for All."
Take a listen to the full Jasta Show podcast below.
Hear Metallica's Kirk Hammett on The Jasta Show
You Think You Know Metallica?
See the Yearbook Photos of Kirk Hammett + Other Rockers