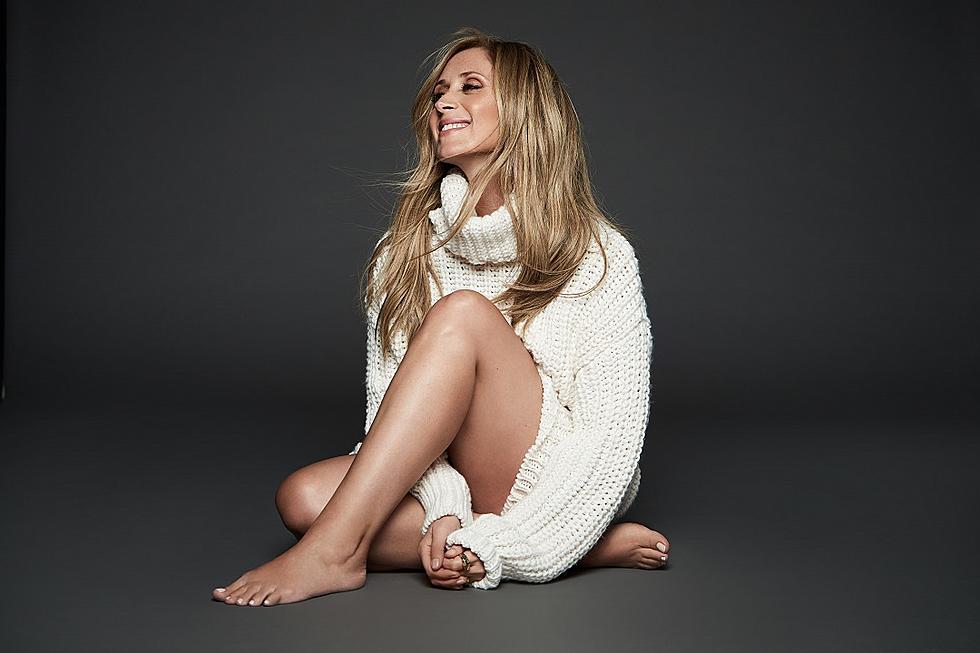 Lara Fabian Celebrates 20th Anniversary of 'Timeless' Dance Hit 'I Will Love Again'
Courtesy of Lara Fabian
If you've stepped foot into a club sometime in the last twenty years, chances are you've heard Lara Fabian's heartbreak anthem, "I Will Love Again," pumping at full volume through the speakers.
Produced by Mark Taylor (Cher, Kylie Minogue) and Paul Barry (Celine Dion, Enrique Iglesias) and released as the Canadian-Belgian superstar's debut English single in the U.S. in 1999-2000, the sweeping, bittersweet dance track became an instant smash, and has remained a euphoric party (and karaoke) staple for two decades of crying on the dancefloor.
And though Fabian may be best known for "I Will Love Again" in the States, the Billboard Hot 100 hit is merely one fleeting bullet point on a long résumé that boasts more than a dozen multilingual studio albums (Fabian sings in French, Spanish Russian and English, among many other languages), countless international hit singles and awards, and impressively placing fourth at the 1988 Eurovision Song Contest.
In 2019, Fabian released her fourteenth studio album, Papillon. Appropriately titled "butterfly" in French, the album finds Fabian in a state of beautiful transformation, spreading her wings and soaring, vocally, over 11 mesmerizing Europop/electronic tracks about love, self-reflection and the fleeting nature of life. She also embarked on her 50 World Tour, which kicked off at the gorgeous Beacon Theatre in New York City and will continue through 2020.
To celebrate turning 50 (part of the inspiration behind the tour), her stunning new album and 20 years of "I Will Love Again," PopCrush spoke to Lara Fabian about her illustrious career as one of global pop's most prominent, elegant voices.
You're turning 50 and the 50 World Tour is partly a celebration of that milestone, as well as your 30 years in the music industry. Looking back at what you've done so far, what would you consider is your greatest accomplishment?
Well, it's probably just being able to stay doing this for three decades, to keep the music alive despite the highs and the lows; the joys and also the sacrifices. I'm recording music, singing songs, touring around the world—it's never stopped for me. Even through the transformation of the show business, I've always somehow kept this special connection that I have with my audience.
What inspired the concept of looking back for this tour?
You know, I'm turning 50 in a few weeks. That's where I am. And it was time to put all the cards in the frame. I was looking at my journey so far and thought, "Let's tell the whole story, not just part of the story." There were so many things that had never been shared before, so the idea was to try a storytelling concept.
I love the "Take Me Home, Country Roads" cover.
My dad taught me that song when I was 12 years old. It's one of the songs [that inspired me to go into music]. It's one of those [emotional] triggers.
Your fans are so incredibly passionate about what you do. It's beautiful to see the relationship that you've built with them. Why is it so important to you to have that deep personal connection to your listeners?
Well, that's the cornerstone, isn't it? You don't have a connection to your fans if they don't have a connection to you and the music. Nothing would exist. I would say it's the most important thing.
You've been a longtime ally to the LGBTQ+ community. Where did the passion for that cause spring from?
When I was a little kid back in Brussels, most of my family's friends were from that community and it never once made a difference. No one was ever [treated differently] or questioned about that. My mom and dad's friends were gay, and so I was raised with the acknowledgement to love one another, no matter one's sexual orientation.
So, I started raising my voice about that. I started writing songs. I don't like the term "defend" because no one needs to be defended in that community, but I started expressing my heart towards the [LGBTQ+ community] when I heard there was so much injustice. I could not—and still cannot—accept it.
The title single off your new album, Papillon, speaks to themes of transformation and the fleeting nature of life. How does that reflect where you are in your career right now?
I believe it's fully reflective. There's a moment in life where you kind of press pause on time and look at things with a little distance. A transformation occurs because you can see the first part of the whole journey so far ... That transformation affects who I am as a person.
Your 2000 smash dance hit, "I Will Love Again," is turning 20 and remains one of the greatest dance tracks of the 2000s. Why do you think it still resonates on dancefloors after all these years?
Well, I think what it says continues to resonate. It gives hope through the darkest moments, and it shows that hope doesn't have an expiration date. Believing in love doesn't have an expiration date. And that's what I love about that song. To me, there's something even deeper about that song, which is the joy that is carried by the track. It could've been very dramatic, but the paradox is that the theme of the song carries joy, and joy carries the theme of the song. That's what makes it a timeless track.
What are you listening to right now? Are there any artists on your own playlist that you're really loving at the moment?
Oh man, yes. I'm so passionate about Panic! at the Disco and Brendon Urie. I'm obsessed with him. I think he's a genius. He's like a mixture between Freddie Mercury and Dorian Grey. I just adore him. I think he's so smart and so talented and so grounded in what he's doing.
I would love to hear a collaboration between you two someday.
I don't feel like it would ever happen, but I would love for that as well!
Are there any sounds or concepts you'd like to explore in future albums?
Actually, yes! I have something specific in mind for the next record that unfortunately I can't share right now 'cause it would blow the surprise, but I'm on it.
Pop Stars From the'90s and '00s: Then & Now