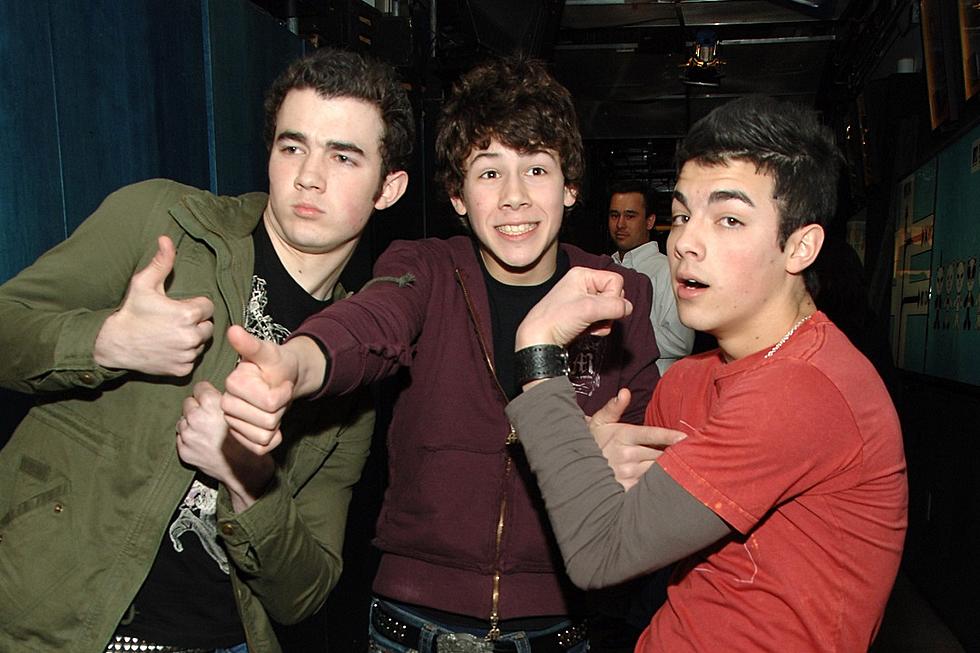 Jonas Brothers Hit With Lawsuit, Hooters Sued + More
Theo Wargo, Getty Images
Welcome to PopCrush's Daily Break! Here's a breakdown of today's hottest pop culture and lifestyle stories as heard on PopCrush Nights, airing across the country. Check out the scariest haunted house in America, a nostalgia-inducing Lizzie McGuire family reunion picture and more!
The Scariest Haunted House
Tennessee is the home of the scariest haunted house in America. The haunted house is so terrifying that you have to sign a 40-page waiver before entering! A background test and drug test have to be passed before entering, too. If you make it all the way through the house, you'll receive a $20,000 prize — though no one has ever won. Anything can be expected when entering the house — a few past attendees reported being put in a straitjacket, having teeth pulled, having fingers broken or even having their heads shaved. Is all of that worth the $20,000? (via NY Post)
Popeyes Is Giving Out Jobs
The back-by-popular-demand Popeyes chicken sandwich is reportedly causing the fast food chain to hire 400 new employees. The sandwich will return to the menu in early November, so if you need a job, go put in an application ASAP. And make sure to grab a sandwich before they are gone! The last time Popeyes had the sandwich, they ran out fast. (via The Shade Room)
Scorpio Season Is Upon Us
Scorpio season is here! Scorpios are known as the ride-or-die sign that will always have your back — as long as you don't break their trust! There are some characteristics that make Scorpios unique that you should take note of if you are close with anyone born under this water sign! Scorpios will cut you out of their lives if you bring any drama and the best way to win them over is to just be honest with them! Find out more about the secretive Scorpio via Cosmo.
Halloween Is Never Going Out of Style
Halloween has become more and more popular for adults to celebrate over the years. Celebrations have changed from the traditional trick-or-treating to bar hopping and alcohol-fueled parties. Some people have chalked this rise in adult Halloween fun to Millennials' refusal to grow up. By 2005, only a little more than half of adults celebrated Halloween. Now, the number has risen to over 70 percent! (via The Conversation)
A Picture Is Worth $150,000
The Jonas Brothers are being sued! Why you might ask? Because they posted a picture of themselves on their social media accounts and did not credit the original photographer. Michele Eve Sandberg is suing the JoBros for copyright infringement, and she claims the brothers profited from her work. This lawsuit is reportedly worth $150,000. (via The Blast)
Hooters Is Being Sued
A man named Marcos Calcano is suing Hooters for not having braille on their gift cards. He said he is going through with this not just for himself, but also on behalf of others who are blind. He also says that adding braille to the cards is an easy fix that would make it much easier for people like him to use. Calcano also has filed a suit against Domino's Pizza. (via TMZ)
Lizzie McGuire Is Back!
After being off air for many years, Lizzie McGuire is being rebooted, and the majority of the original cast is set to return! Hilary Duff just posted a photo of the McGuire family on set. Check out the photo here!
Jersey Shore's Ronnie Is in Trouble
Ronnie Ortiz-Magro is facing five misdemeanors following an alleged incident with ex-girlfriend Jen Harley. He picked up one count of domestic violence, one count of brandishing a weapon, one count of child endangerment, one count of resisting arrest and one count of criminal threats. After the altercation, Ortiz was tased before being placed in cuffs. More on the incident can be found on TMZ.
Flipping for Her First Pitch
Olympic athlete Simone Biles did a full twist before throwing the first pitch at a recent baseball game. Watch, below!
For these stories and more, tune in to PopCrush Nights every evening at 7 PM local time.