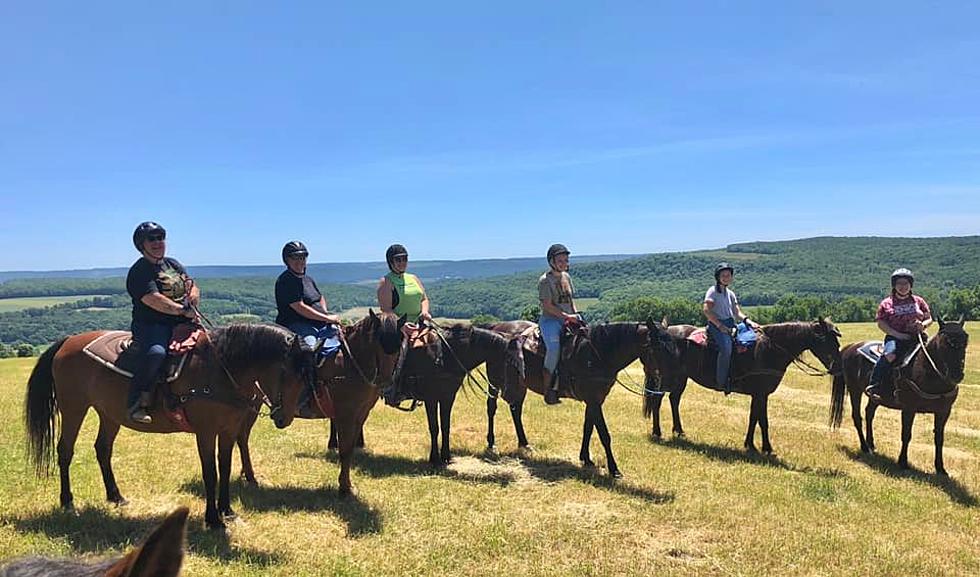 "Saddle Up" At These Top Upstate New York Horse Riding Stables!
Overland Morgan Horse Farm via Facebook
"Saddle Up and Move 'Em Out!"
I doubt that there is a better way to get up close and personal with Mother Nature's handiwork in Upstate New York than from your perch in a saddle on a horse.  Luckily for all of us, there are many places throughout the region that offer horse riding experiences for all ages to enjoy.
The horse riding farms and stables on this list range from those in the Catskills and Adirondacks to those in Central New York and the Finger Lakes regions.  The beauty these trail rides expose us to is really a "best of the best" in Upstate New York.  From the mountains of the High Peaks area of the Adirondacks, to the rolling hills of the Catskills, and even trail rides through the vineyards of Wine Country, these are all great.
As you will see, these trail riding adventures are available for all ages, and for all riders, including those with little or no horse riding experience.  Most have a "learning time" before a trail ride where you will get comfortable with the basic rules of the trail, and time that allows you to "buddy up" with your horse.  Each stable or trail venue listed in this gallery has a link that will take you directly to their site for directions, riding rules, age requirements, and other specifics to your personal adventure.
Rides include birthday party fun, moonlight rides, trails which cross streams and creeks, and rides which will offer up some of the most beautiful "selfie" landscapes you can imagine.
Again, there are dozens of these places, so if your favorite horse riding venue did not make our gallery please visit our Facebook page and give it a shout out!
Horse Riding Stables in Upstate New York That Offer "Great Rides" For All Ages!
What better way to enjoy the beauty of Mother Nature in Upstate New York than from the saddle of a horse. There are many horse riding trails, stables, and farms that offer this unique way to get up close and personal to the woods, forests, lakes, and mountains of our region. Here are some of the best horse riding options (for all ages) in Upstate New York.
Do NOT Miss These 11 Little Known Upstate New York Museums
This is a list of eleven museums scattered all across Upstate New York that are definitely worth a visit from you. Most are small and little-known. The Eastman House and Museum in Rochester is the most well-known. But did you know the dark secret the households? Read on.
The smaller ones tell a gripping story of a growing America. Most are little known as well. Why a pioneer oil museum in Western New York? And what is it with the knife museum, too? And you will love the story about the oddly named Drain Tile Museum in Geneva. But don't pooh-pooh those lowly drain tiles. Read on and find out why using them to help grow foods was called by Cornell University, "the greatest agricultural innovation of its time.'
And finally, be sure and check out museum #10. It is little known and in a remote location. But it tells a story of American history that took place in Upstate New York that few have ever heard of. Once you visit this museum, however, you are likely never to forget it.
Small museums with great big stories. And all in Upstate New York!