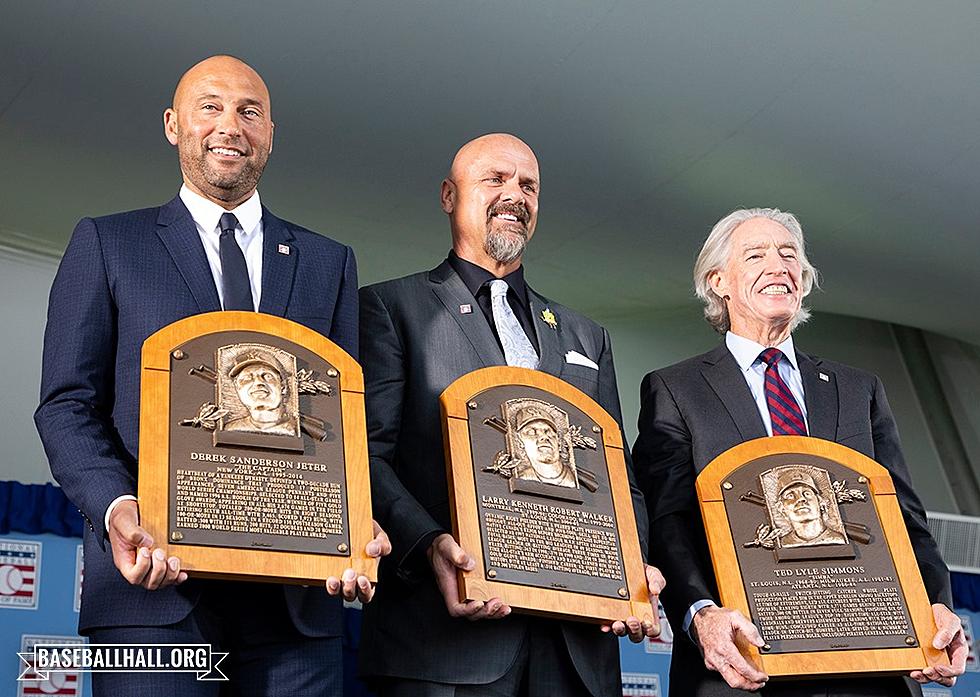 Historic Day in Cooperstown As Baseball Greats Inducted Into Hall of Fame
Derek Jeter, Larry Walker, Ted Simmons (Credit: National Baseball Hall of Fame and Museum, Facebook)
It may have been delayed a year because of the COVID pandemic, but good things are worth waiting for. That sentiment seemed apparent with a National Baseball Hall of Fame and Museum estimated number of 20,000 baseball fans who turned out for the postponed 2020 Induction Ceremony in Cooperstown yesterday on a beautiful day. The last Induction ceremony had taken place on July 21 in 2019.
The highly anticipated ceremony took place as usual at the Clark Sports Center with Derek Jeter (legendary Yankees shortstop), Larry Walker (outfielder), Ted Simmons (catcher), and Marvin Miller (union leader) were all inducted into the hall and joining 31 other Hall of Famers who were at the event as well. Miller was inducted posthumously after passing away at the age of 95 in 2012.
According to Hall of Fame Chairman Jane Forbes Clark, the hall now has 333 members. Sadly, the hall has lost some members who have passed away. Clark said, "Since our 2019 Hall of Fame Induction Ceremony, the Hall of Fame family has lost 10 of our members. Men who embody the qualities of character, integrity, sportsmanship and who loved being here in Cooperstown with you and with their Hall of Fame family."
Those lost members include: Al Kaline, Tom Seaver, Lou Brock, Bob Gibson, Whitey Ford, Joe Morgan, Phil Niekro, Tommy Lasorda, Don Sutton, and Hank Aaron.
At the ceremony yesterday, Jeter's teammate Bernie Williams showed off his musical talents by playing the National Anthem on guitar as he was accompanied by saxophonist Richie Cannata.
Find out more about Baseball Hall events at baseballhall.org.