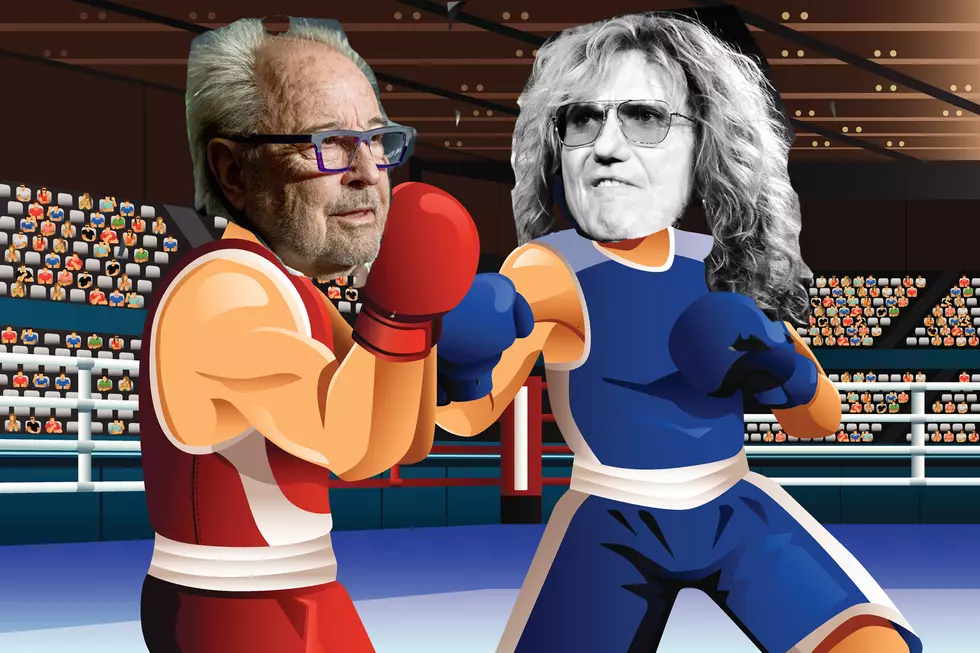 Foreigner and Whitesnake's 'Juke Box Heroes' Tour: A Tale of the Tape
Roy Rochlin / Mike Coppola, Getty Images / Thinkstock
It's a big, bad evening of loud rock 'n' roll, chock full of sturdy anthems, with a pinch of romantic balladry. It's Foreigner — hot-blooded, rough and ready rock hitmakers — and Whitesnake, all bluesy swagger and six-string virtuosity. They're coming to a summer amphitheater near you, starting tonight in Bangor, Maine, and they've got serious intentions. They're even bringing Jason Bonham's Led Zeppelin Evening along to open the show, because what's a better start to the evening than songs about Vikings and levees and rock 'n' roll?
Foreigner and Whitesnake, together at last. It's a friendly competition, and we're firm but fair. Let's look at the tale of the tape.
CURRENT LINEUP
Foreigner: Mick Jones (Lead Guitar), Kelly Hansen (Lead Vocals), Jeff Pilson (Bass), Tom Gimbel (Flute, Rhythm Guitar, Saxophone), Michael Bluestein - Keys), Bruce Watson - Lead Guitar), Chris Frazier (Drums)
Whitesnake: David Coverdale (Vocals), Reb Beach (Guitars), Joel Hoekstra (Guitars), Michael Devin (Bass), Tommy Aldridge (Drums)
Both bands have historically been revolving doors for musicians. The biggest alteration in Foreigner's lineup was at the lead singer spot, where Lou Gramm was replaced by Kelly Hansen in 2005. Whitesnake have always been a landing spot for great guitar players (past six-string slingers include Steve Vai, Adrian Vandenberg, Vivian Campbell, Bernie Marsden and Warren DiMartini), and their latest pair, Reb Beach (of Winger fame) and Joel Hoekstra (Night Ranger, Trans-Siberian Orchestra) are a fine duo in their own right.
Coverdale is the sole original member of Whitesnake still in the band (for all intents and purposes, he is Whitesnake) and Jones the last of the original Foreigner bunch to still be playing. However, there have been some shows in which he has begged off for health reasons, leaving Foreigner onstage without a single original member.
FORMED / HOMETOWN
Foreigner: 1976, New York City
Whitesnake:  1978, Middlesbrough, Cleveland, England
While stuck in New York City when his gig in the Leslie West Band dried up, Mick Jones cobbled together a bunch of British and American musicians to form a band called Trigger. He then brought former Black Sheep singer Lou Grammatico down from Rochester, N.Y., lopped off half the kid's surname, changed the band name to Foreigner and set about writing and recording the songs that would comprise the band's first album.
David Coverdale recorded two solo albums after Deep Purple broke up — White Snake (1977) and Northwinds (1978); the first version of Whitesnake was simply Coverdale and the band that supported him for those records. That band included guitarists Bernie Marsden and Micky Moody and bassist Neil Murray. Drummer David Dowie and Deep Purple keyboardist Jon Lord would be on board for the group's debut LP, Trouble, in 1978.
FIRST ALBUM
Foreigner: Foreigner (1977)
Whitesnake: Trouble (1978)
Foreigner's debut is a stone-cold '70s rock classic, fortified with hits like "Cold as Ice," "Long, Long Way from Home," and "Feels Like the First Time," which are played on rock and adult contemporary radio to this day. It also has a sturdy block of album tracks like "At War With the World," "Headknocker" and "Fool for You Anyway" that cement its status as one of the best debuts of the decade.
Though Whitesnake would make a handful of classic albums, Trouble was not the strongest of first takes, though it did have a should've-been hit in "Love to Keep You Warm" and a runaway train of a side-closer in "Nighthawk (Vampire Blues)."
BREAKTHROUGH
Foreigner: 4 (1981)
Whitesnake: Whitesnake (1987)
Foreigner's fourth record, produced by "Mutt" Lange and Mick Jones, was among a number of towering releases in the early '80s that, collectively, formed something of a golden age of Album-Oriented Rock — R.E.O. Speedwagon's Hi Infidelity, Journey's Escape, Styx's Paradise Theatre, Billy Squier's Don't Say No, Sammy Hagar's Standing Hampton, Pat Benatar's Precious Time and more. Foreigner's 4 had "Urgent," "Waiting for a Girl Like You" (10 weeks at No. 2 on the Billboard Hot 100 singles chart), "Juke Box Hero," "Break It Up" and "Woman in Black" among its highlights. It's as solid a rock record as existed at the time, and the band's only album to top the Billboard 200 albums chart.
By the time Coverdale released Whitesnake (also known as 1987 in Europe and Serpens Albus in Japan), he was nearly broke and had his back to the proverbial wall. He responded by honing his Robert Plant-ish howl, getting producers Mike Stone and Keith Olsen to make the drums sound like cannon shots and reworking the five-year-old "Here I Go Again" into a Journey-flavored power ballad. He embraced making music videos and put his comely wife in each one of them. Eight million copies later, he was no longer broke; he was king of the mountain.
GOLD, PLATINUM & DIAMOND ALBUMS
Foreigner: Nine Platinum, One Gold
Whitesnake: Four Platinum, One Gold
Each of Foreigner's first six studio albums (through 1987's Inside Information) went platinum, with 1978's Double Vision (7 million) and 1981's 4 (6 million) leading the charge. The group's first best-of compilation, 1982's Records, sold 7 million; three other compilations yielded two platinum and one gold record among them.
Slide It In (1984) was Whitesnake's first Top 40 U.S. album, and their first to achieve RIAA certification, eventually going double-platinum. Whitesnake (1987) and Slip of the Tongue (1989) sold 8 million and 1 million, respectively, rounding out their studio albums that achieved platinum certification. The band's Greatest Hits (1994) sold a million and another compilation went gold.
TOP 10 SINGLES
Foreigner: Nine
Whitesnake: Two
Foreigner first hit the Top 10 in 1977, as "Feels Like the First Time" kicked off a decade of hits that more or less ended with their final Top 10 single, "I Don't Want to Live Without You." In between was a treasure trove of rockers and ballads, from "Hot Blooded" (No. 3 in 1978) to "Urgent" (No. 4 in 1981) to "I Want to Know What Love Is" (No. 1 in 1984).
Whitesnake's "Here I Go Again" spent one week atop the Billboard Hot 100 singles chart in October 1987. Two months later, "Is This Love" peaked at No. 2, kept out of the top spot by George Michael's "Faith."
ROCK AND ROLL HALL OF FAME
Foreigner: No
Whitesnake: No
David Coverdale entered the Rock and Roll Hall of Fame in 2016 as a member of Deep Purple, but as of this writing, neither Whitesnake nor Foreigner have been enshrined.
MOST RECENT STUDIO ALBUM
Foreigner: Can't Slow Down (2009)
Whitesnake: The Purple Album (2015)
Can't Slow Down is so far the only full Foreigner studio album in which Kelly Hansen has been featured, though since he joined in 2005, the band has released a whopping 15 best-of or live albums that contain him performing in some context -- either full concert sets or bonus tracks tacked onto compilations. Whitesnake's 2011 album Forevermore was an unqualified return to form; the band followed it in 2015 with The Purple Album, an homage to Coverdale's years in Deep Purple. Releasing The Purple Album enabled Coverdale to reclaim classics like "Burn" and "Stormbringer" that Whitesnake had been playing live for years anyway.
WORST COME-ON LINES
Foreigner: "Hot Blooded"
Whitesnake: "Slide It In"
"Come on, baby, do you do more than dance?"
"If it feels all right, maybe you can stay all night / Shall I leave you my key?"
"I know what you want from me. I'm gonna give you more. I'm gonna slide it in, right to the top. Slide it in, I ain't ever gonna stop."
MANLIEST CRY OF LOVE
Foreigner: "Waiting for a Girl Like You"
Whitesnake: "Still of the Night"
¿Quien es mas macho — Señor Gramm o Señor Coverdale?
Gramm's cry at the end of "Waiting for a Girl Like You" (right after "Won't you come into my life?") is the falsetto of a man who has fallen in love so many times before, but now he knows this woman — this ephemeral being in front of him in this fleeting moment — is the one with whom he was meant to be for the rest of his life, a life that has been sorry, lonely and miserable until now. Now, she's here; now he's here. She looks at him and smiles, and the Vesuvius of emotion wells up in his chest and he cries out for her, for them, for love, a love long desired, a love long awaited.
Coverdale's cry coming out of the extended bridge in "Still of the Night" is the scream of a man who has been watching a sweaty Tawny Kitaen melt down a stairwell and a parking lot for four minutes and something grazes his zipper.
SONG WE'D ADD TO THE SET LIST
Foreigner: "Out of the Blue"
Whitesnake: "Might Just Take Your Life"
"Out of the Blue" is an unheralded album track on Side Two of Foreigner's 1987 album Inside Information, a mid-tempo ballad with verses that search the heart and a majestic chorus that lifts it. They've never performed it live, which is a shame, particularly when "Say You Will" (same album, bigger hit) gets played just about every show. Switch it up a little, guys.
If Whitesnake insisted on making The Purple Album to add Deep Purple tracks to their set, they need to put this track from 1974's Burn on there — it's one of Coverdale's best with the band.
Foreigner/Whitesnake/Jason Bonham's Led Zeppelin Evening 2018 Juke Box Heroes Tour
6/15 — Bangor, ME, Darling's Waterfront Pavilion
6/16 — Saratoga Springs, NY, Saratoga Performing Arts Center
6/19 — Syracuse, NY, Lakeview Amphitheater
6/20 — Boston, MA, Blue Hills Bank Pavilion
6/22 — Wantagh, NY, Northwell Health at Jones Beach
6/23 — Camden, NJ, BB&T Pavilion
6/26 — Cincinnati, OH, Riverbend Music Center
6/27 — Burgettstown, PA, KeyBank Pavilion
6/29 — Bristow, VA, Jiffy Lube Live
6/30 — Holmdel, NJ, PNC Bank Arts Center
7/03 — Raleigh, NC, PNC Music Pavilion
7/04 — Charlotte, NC, Coastal Credit Union Music Park at Walnut Creek
7/06 — Nashville, TN, Ascend Amphitheater
7/07 — Alpharetta, GA, Verizon Amphitheatre
7/08 — Simpsonville, SC, Heritage Park Amphitheatre
7/10 — Cuyahoga Falls, OH, Blossom Music Center
7/11 — Chicago, IL, Huntington Bank Pavilion at Northerly Island
7/13 — Noblesville, IN, Ruoff Home Mortgage Music Center
7/15 — Clarkston, MI, DTE Energy Music Theatre
7/17 — Kansas City, MO, Starlight Theatre
7/18 — St. Louis, MO, Hollywood Casino Amphitheatre
7/20 — The Woodlands, TX, Cynthia Woods Mitchell Pavilion
7/21 — Irving, TX, The Pavilion at Toyota Music Factory
7/24 — Denver, CO, Pepsi Center
7/25 — West Valley City, UT, Usana Amphitheater
7/27 — Auburn, WA, White River Amphitheatre
7/28 — Ridgefield, WA, Sunlight Supply Amphitheatre
7/31 — Chula Vista, CA, Mattress Firm Amphitheatre
8/01 — Irvine, CA, Five Point Amphitheater