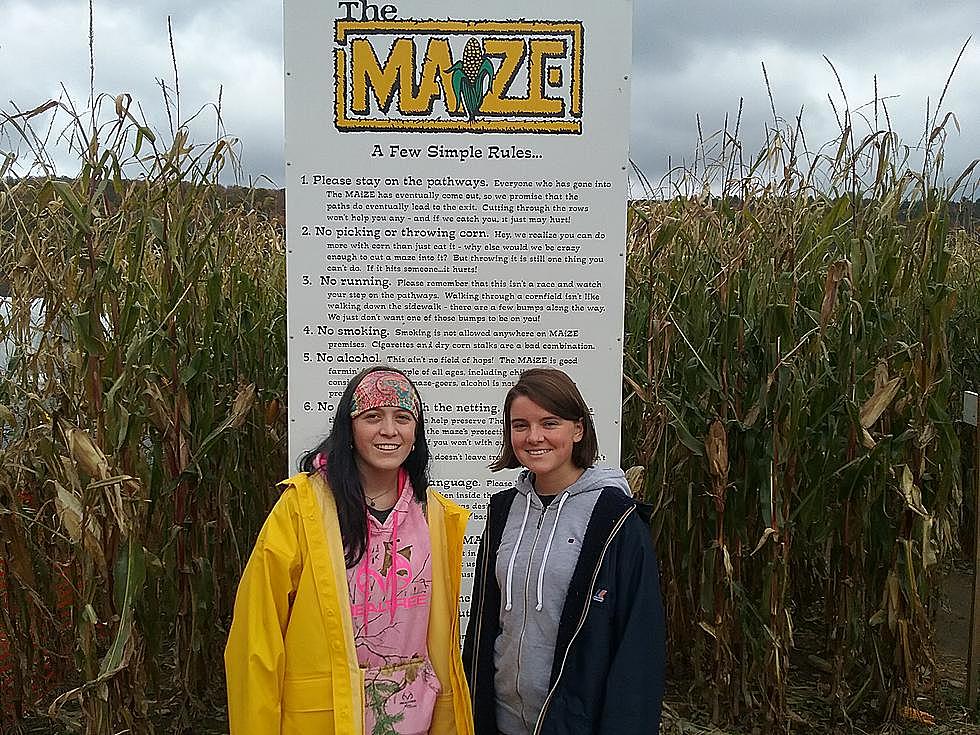 TAKE A LOOK: Southern Tier Corn Mazes Show Off 2021 Designs
Glenn Pitcher
When you think of Fall, what's one of the things that come to mind? For me, it's corn mazes, and luckily there are a few different options for fall fun in the Binghamton area/Southern Tier.
Stoughton Farm: Newark Valley, New York
Stoughton Farm Corn MAiZE is back for its 17th year beginning on Saturday morning  on September 18th.
Stoughton Farms is located in Newark Valley and they are a year-round greenhouse. However, in September it all changes (sort of) and the farm turns into a tourist destination.
The theme for 2021 is "Wonderous Web of Adventure" because spiders are a nice creepy fall thing. The night maze will be back beginning on October 1st on Fridays and Saturdays only but the MAiZE will be open every day through October.
Stoughton Farm was a place that my daughter couldn't wait to visit in 2019. Two years ago, my daughter, Tara hosted a French exchange student named Lucie. One of the highlights of her visit was the trip to Stoughton Farm and the corn maze. When my daughter talks about their time together, that is one of the things that she talks fondly about.
Tim and Deb Stoughton and their staff want you to know that they are doing their best to keep everyone safe and healthy. for everyone that is coming to their farm.
Masks or face coverings will be required for all unvaccinated patrons and everyone must follow social distancing practices as recommended by the NYS Health Department.
Peila View Farm: Oxford, New York
Stoughton Farm is probably the most well-known corn maze in the surrounding area of Binghamton, but there's another one up the road not too far that deserves lots of love too.
Peila View Farm is located in Oxford, and it's yearly corn maze is always a huge draw. This year though, they decided to honor those who lost their lives on America's darkest day with this year's design:
Needless to say, this is an awesome gesture. The farm is open for the season, and the cornmaze is open on Saturdays and Sundays.
Bradley Farms: Elmira, New York
Bradley Farms in Elmira is open for the season, and so is its corn maze. This year, they're out to prove there's no place like home:
The maze design this year is for everyone's favorite bucket of bolts -- the Tin Man from the Wizard Of Oz. It's open daily.
LOOK: How Halloween has changed in the past 100 years
SWEET: Here are the most popular Halloween candies
25 Scaredy Cat-Approved Halloween Movies
My Top 13 Memories With My Favorite Morning Show Partner
Tara And Glenn Through The Years