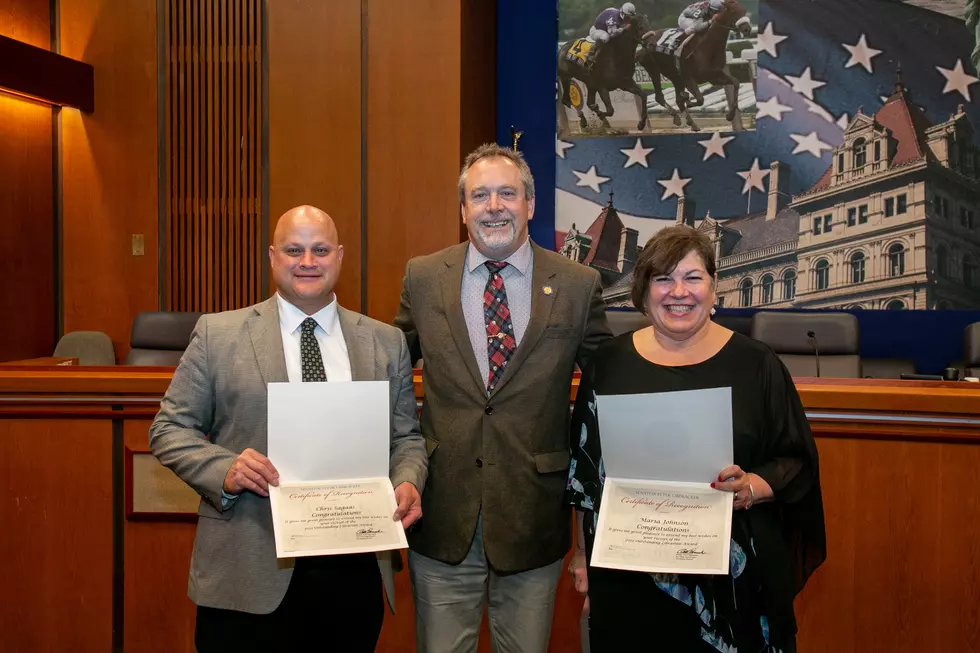 Two Local Librarians Take Center Stage In Albany. Find Out Why…
Senator Oberacker's Office
Maria Johnson and Chris Sagaas are being recognized for outstanding service to to their local communities. State Sen. Peter Oberacker presented Certificates of Recognition to Johnson and Sagaas during a special ceremony in Albany.
""Our libraries are vital community resources and our librarians do an incredible job," Oberacker said in a statement sent to CNY News. "In many of the towns and villages that I represent, the local library hosts public meetings, delivers key services to residents young and old, and is the most recognizable building in the community."
The New York State Senate Outstanding Librarian Awards are given annually to librarians from each region of the state. Both Johnson and Sagaas live in Oberacker's 51st State Senate District.  Johnson resides in Oneonta and is a Library Media Specialist at Roxbury Central School.  Sagaas calls Herkimer home and is director of the Utica Public Library.
In his statement, Oberacker highlighted the importance of libraries in educational settings.
"Our school libraries are often the first connection with reading for many and continue to have a winning influence on the development of our young people," Oberacker said.
The 2022 awards took into account the challenges librarians faced because of the Covid 19 pandemic and the creative solutions employed by library staffs to keep patrons safe and employees healthy.
Read More: 15 Page Turners: Are These Upstate's Best Independent Bookstores?
These Ten Smallest Upstate New York Schools Keep Teaching Their Kids The "3 R's"
These are the ten smallest school districts in New York (by enrollment). Notice they are almost exclusively located in the rural parts of Northern New York. Still, credit must be given for the historic nature of these special schools.
"Hey, Kids! Who Wants to Go To a Museum?" They Will Say a Big "Yes" to These New York Favorites
Here is a list of a dozen New York State museums that kids and teenagers will enjoy to the fullest. They are all pretty much hands-on museums and all encourage interaction with the young visitors.
The 12 Most Stunning College Campuses in Upstate NY
Throughout New York State, our college campuses run from the urban blocks-long, wooden and brick ones in New York City, to the sprawling college campuses which dot Upstate New York from the Hudson Valley to Buffalo. We list here the dozen most stunning campuses in Upstate.
Treasure Hunt At 12 Consignment and Thrift shops in Otsego County
Thrift and consignment shops have become very popular over the years and continue to gain in popularity since you can find some amazing clothing items or treasures that you just have to have. "Sky's the limit" on what you can find at any one of these awesome shops in Otsego County. Happy treasure hunting!